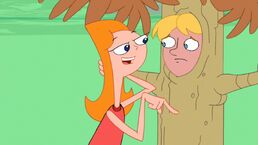 It kinda reminds me of the Phineas and Ferb episode (the wizard of oz one) that includes a song about a "Tree Related Wish". But this is a lot more real and scary and has been depriving me of sleep for the last week, and its getting worse.
I start back to college on Monday. Whoo. It wouldn't be that big of a deal, except that this will be my first time taking on-campus classes. My friend, Sarah, and I arranged our schedules so that we have classes on Tuesdays and Thursdays, and we can carpool (I still haven't got my license, but I'm almost there). I'm taking Government and Speech online, then Theatre (THANK GOD) and Biology (with the lab, its going to be about 4 freaking hours with that professor *dying screech*) in person.
All of this thinking about college has kinda freaked me out. Which also means that I am trying to be over prepared and that I can type really fast. So I figured a blog post was probably the best way to get this anxiousness out. Plus, I might be able to help some of the people who are in the same or similar situations.
One of the huge things that I have been thinking about is WHAT IN THE WORLD DO I BRING ON THE FIRST DAY??? I mean, this isn't like kindergarten. There is no supply list. No mommy to walk you to class and introduce you to your teacher. At least I had Sarah to show me around the campus a couple days ago (I only have to worry about 3 buildings that are close together. WHOO!). I've been doing some research, and this is what I've learned. We'll see on Tuesday what good this does me...
1. Bring a backpack or large-ish bag.
Makes sense to me. I mean, you have to be able to carry all of the crap you bring, right? I contemplated bringing just a purse at first, but now I've decided on this backpack that I bought from Spencer's on my birthday. Its not super girly, but I think its cool, and it meets my needs. And I have yet to find a real use for the speakers, even after having it for a month, but its a cool tech-y thing regardless, and shows that I have an interest in music. Get it here:
http://www.spencersonline.com/product/tr-pnk-bl-graffiti-audio-bckp/
2. Bring notebooks/paper and folders and pens and stuff.
I have yet to get all of this stuff together yet. I need a binder with dividers, since thats how I like to organize papers for all of my classes. I do, however, have some spiral notebooks, which I will assign to classes as needed. I like cute ones, so I have some (salvaged from my collection of many) that just have a cute design on the front (ONE HAS HELLO KITTY ON IT!!!) and others that were plain and I customized with duct tape. The only downside to the ones I have is that they're not college ruled :( . I need to get some pens and pencils and highlighters, but for now, I'll just scavenge some from around the house.
3. Bring a lunch/lunch money/etc.
I'm not going to a big college, so there aren't really meal plans, and I don't have a ton of money to spend on food, so this year I'm going to bring my lunch most of the time. Inspired by the bento boxes that I've seen on the anime I watch and my love of Asian things in general, I bought a kind of American version of a bento box. Its got three little containers and one big one, plus a freezer pack (really important since Texas is so hot), and it all snaps together. If I could manage it, I would totally get a Totoro or Kiki's Delivery Service bento box though. And I might do that anyway in the future. Look for bento box meal pictures on my instagram in the near future, btw. I got this one from Amazon:
http://smile.amazon.com/Cool-Gear-Ez-freeze%C2%AE-Collapsible-Assorted/dp/B00BSZJGII/ref=sr_1_3?s=kitchen&ie=UTF8&qid=1408747459&sr=1-3&keywords=bento+box
4. Bring your electronics.
I'm not talking about your Ipod, though that might be on your list. But I'm taking my laptop so that before classes (my first class isn't until 11:00, but Sarah has to be there way earlier) I can blog and work on stuff for my online classes. I'm looking forward to sitting in the library with my laptop and being ignored by pretty much everyone else as I work on stuff. At least, I hope that's how it will go. Unless I buy ebooks instead of physical textbooks (not sure at the moment, but they are sometimes cheaper), I'll be leaving my kindle at home, at least for the first day. My cell phone is a necessary thing, since Andrew, Sarah, and my mom are people I am constantly texting (I won't be texting during class though if I can help it). Plus, I use it for most of my Jamberry stuff. I'll probably bring my headphones too, but I probably won't use them.
5. Bring a copy of your schedule.
You'd think this would be a no-brainer, but it seems like something I'd totally forget. I don't have a printed version of my schedule, but I took a picture of it with my phone. I'm also going to write it in my planner (
YET ANOTHER IMPORTANT ITEM
) and in some of my notebooks. I only have to know when two classes are, but I'm probably going to be so full of anxiety that I'll forget every 5 minutes.
The other important thing that I have been worried about is
WHAT IN THE WORLD DO I WEAR AND NOT LOOK LIKE A TOTAL FRESHMAN?????
*Mentally channels child from The Magic School Bus*
According to my research
you are supposed to look cute and feel comfortable, but don't overdo it. Its just college. You don't have to look professional. But dress well enough to make a good first impression.
Based on this, I have decided very little. I do know that I'll wear my favorite pair of non-skinny jeans (some really cute dark ones from Rue 21). And because I won't be walking much, I'm free to choose whatever shoes I want, so I'm probably going to rock these American Flag flats that I got from Payless (
http://www.payless.com/womens-dream-slip-on/71097.html
). I also have an American flag infinity scarf that I got when we went to Canton this summer. I'll probably wear a cute top that I got during one of my many thrift shopping trips this summer, and bring along a the really cute, lightweight grey zip-up hoodie that I got on sale at Maurice's. And, of course, I'll be rocking Jamberry Nails (I sell them, so that's kinda a given!). I bought these "Raspberry Sparkle" ones when I first started selling, and I've been saving them. By the way, they're part of the Going. Going, Gone sale, and are only available for order through the end of August. Get them here:
http://elizaw95.jamberrynails.net
So, yes. I'm pretty well prepared because of all of this freaking out. Here's to a good year, and even better grades! If you want more college advice, try watching this video of mine that I posted to the KEEYSS channel this week:
Also, here are some articles that I found helpful:
http://charlotte.cbslocal.com/2013/08/01/a-freshmans-guide-to-the-first-day-of-college/